The onset of COVID has led to a "Gold Rush" in the Smile States/Sun Belt region of the multifamily investment world. With cheap debt, rising housing demand, and limited supply in warm climates, family offices, developers, private REITs, and others have capitalized on this opportunity. While the spotlight remains on these Smile States, Walker & Dunlop's Midwest Investment Sales team suggests that secondary markets like Indianapolis have the potential to be overlooked opportunities for firms with varying asset under management (AUM) sizes and investment strategies. These smaller markets in the Midwest share similarities with their larger, warmer counterparts, such as thriving diverse economies and growing populations. The COVID pandemic has shifted the perception of suburban living from being undesirable to highly desirable, with affordability and privacy becoming significant factors. This newfound appreciation for smaller, affordable, yet vibrant cities has fueled demand in many Midwest cities. Unlike larger markets, these secondary markets offer a greater potential for future growth and investment profitability.
Geography Matters in Real Estate Syndication
South Bend holds a unique advantage due to its geographical location. Indiana has long been known as The Crossroads of America, and Indianapolis has now embraced this name due to its central position at the intersection of four major interstate highways. Within four hours or less, one can reach several major Midwest cities like Columbus, Cincinnati, Fort Wayne, St. Louis, Louisville, or Chicago.
The economy of Indianapolis is highly diverse, providing greater resilience against market volatility. Given its nickname, it's no surprise that the city has a concentration of logistics companies specializing in transportation and distribution activities. Additionally, with major employers like Salesforce, Indianapolis has carved out a niche in marketing technology. TechPoint's research shows that nearly half of the state's information technology workforce is based in Indianapolis.
Viking Capital's SouthBend Multifamily Asset: Elevate on Main
Before this recent economic media attention for the midwest region, Viking Capital recognized the growth and affluence of secondary markets such as the South Bend region of Indiana and purchased Elevate on Main. This asset has performed wonderfully and continues to show growth opportunities. Renewals have increased by 5.3%, beating our proforma review and the national average. Collections on this property have remained strong, 99% collected monthly.
NOI is hitting 22% above budget for this period. After 130 unit renovations, our interior upgrades have produced an average rent premium increase of $356 over prior rents! This is one of our more prized assets and we're looking forward to seeing what else Midwest has in store for Viking Capital over the next 6 months.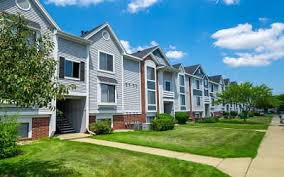 Southbend Economics
The Indianapolis Metro, located on the banks of the White River, boasts of world-class motorsports events, professional sports teams, and well-respected universities. The city of Indianapolis has a diverse economy with significant contributions from life sciences, technology, logistics, and education. Employers are attracted to the metro due to its numerous incentives, with business costs 6% lower than the national average. In 2021-2022, almost 60 new developments with over $4.1 billion in capital investments are planned in the area. The city's growth and accomplishments over the past decade have led to increased investment, setting it up for stability in the future.
Real Estate
The surge in demand for apartments has contributed to rent growth. This growth, which peaked in mid-2022 and has now slowed down, has surpassed the U.S. national average. One-bedroom unit rents currently stand 24% above pre-pandemic levels in Indianapolis, compared to 17% for the entire U.S. The vacancy rates in the Indianapolis multifamily market have experienced a significant decline over the past year, continuing a downward trend observed over the past decade.
A Leader in Infrastructure
Indiana lives up to its motto, "Cross Roads of America," with a remarkable distinction. It boasts the highest density of Interstate Highway miles per square mile compared to any other state. The origins of Indiana's state motto can be traced back to the early 1800s when river transportation, particularly along the Ohio River, played a crucial role in the state's transportation network. Fast forward to the present, and Indiana continues to hold a significant position as more major highways intersect within its borders than in any other state.
The Indiana Economic Development Corporation (IEDC) reveals that the logistics sector is a robust $78 billion industry throughout the state, establishing Indianapolis as a leading mid-sized market nationwide. With over $650 billion worth of goods passing through Indiana each year, it ranks as the fifth-largest state in terms of commercial freight traffic. This positioning makes Indiana an ideal choice for warehousing and logistic hubs. Furthermore, due to its strategic location, approximately 80% of the nation's population is within a reasonable distance from Indiana.
A Leader in Education
The Indianapolis Metro leverages strong connections with prestigious universities in the state, including Indiana University, Purdue University, The University of Notre Dame, Rose-Hulman Institute of Technology, and Butler University. The metro area continues to reap the advantages of a statewide emphasis on reinvesting in education, aiming not only to educate but also to retain top talent within Indiana. Consequently, the state boasts the third-highest rate of higher education attainment in the Midwest. This commitment to education has fostered a vibrant, youthful, skilled, and well-educated labor force that increasingly sees Indianapolis as its permanent home.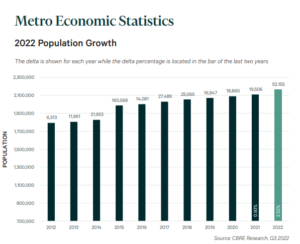 A leader in Employment and Population Growth
In February of this year, employment in transportation and warehousing sectors in Indianapolis surged to nearly 24 percent above pre-pandemic levels, far surpassing the 5 percent growth in total jobs during the same period. This robust expansion of the local industrial sector is driving the demand for apartments as the workforce in Indianapolis continues to grow. Specifically, in Hendricks County, located west of downtown, industrial absorption reached an impressive 2.7 million square feet last year. The creation of these new jobs, resulting from increased leasing activities, will generate a heightened demand for housing units in the Far West Indianapolis Suburbs, where Class C vacancies are exceptionally scarce and availability of Class A and B units falls below the metro-wide average.
Residents who seek closer proximity to the city and urban amenities are opting to rent in the Southwest submarket, near the airport. This heightened activity in the Southwest submarket has contributed to rent growth exceeding 10 percent for Class A and B units, aided by an exceptionally low vacancy rate among upper-tier properties, which is the lowest among all submarkets in the metro area.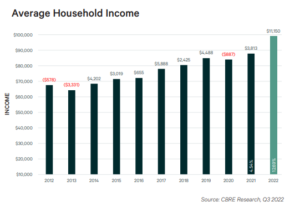 A Top Performer in Multifamily Stress Tests