Viking Capital is pleased to present our latest multifamily
investment opportunity, 
Park 33!
Why We Love This Deal

PARK 33 is a 188-unit Core- Plus Value-Add asset located in the heart of South Bend MSA. This asset, located in the nation's #1 area for year-over-year rent growth, has tremendous value-add potential with a two-phase strategy we will implement. This, coupled with stellar in-place performance creates an incredible opportunity for investors.

PARK 33 Viking plans to assume the remaining 7-year, $18.3M Freddie Mac loan at a 3.08% interest rate, and I/O period through May 2025. This low rate is more attractive than new debt and offers positive leverage and strong cash flow.

The South Bend MSA is conveniently located near north central Indiana's largest job clusters and Chicago. Park 33 benefits from excellent access to numerous and diverse employers nearby.

Viking Capital strategically chose this area because even during these tough economic times another asset of ours in South Bend has increased in value by over $10M in two years.  This nearby property offers an operational economy of scale and increased exit liquidity; including an opportunity to exit to an institutional investor.

South Bend, Indiana market is poised for further growth, and we're excited to be at the forefront of it.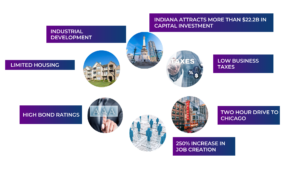 Location, Location, Location


PARK 33
is superbly located near three major metropolises, Chicago, Toledo, and Indianapolis.
South Bend is #2 in the nation for Employment Concentration in sectors such as private education, pharmaceutics, agriculture bio-sciences, manufacturing, and medical devices.


PARK 33
benefits from the ease of access to top employers,
 and is one of the top cities in the nation for job growth.
Similar to all previous Viking Capital Investments, we anticipate

Park 33

 to fill up quickly given the small raise amount. 

All funded commitments will be taken on a first-come, first-serve basis.